Yamaha YPT220 Review
Let's take a look at the Yamaha YPT220 keyboard. Are you looking for a beginner's keyboard? Are you on a budget? This keyboard is worth checking out. It's for absolute beginners and sells for about $119.00. If you want a power supply, headphones or keyboard stand you will have to pay more.
Highly Recommended: Go here for the BEST piano/keyboard course I've seen on the Internet.

The price alone should indicate how basic this keyboard is. When it comes to keyboards the more you pay, usually, the better it gets. So you've got to be prepared to spend more if you want a better keyboard. But for the price, the Yamaha YPT 220 is worth it.
The Yamaha YPT220 features 375 natural sounding voices, 361 XGlite voices, 12 drum kits and a sound effect. Included in the voices is a Stereo Grand Piano. The keyboard also includes 100 accompaniment styles and 102 built-in songs.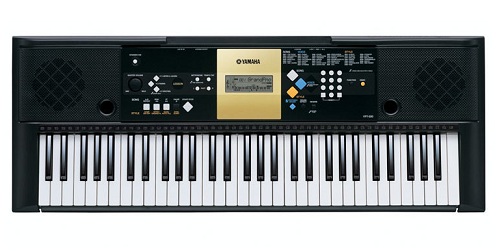 This keyboard is great for someone learning to play keyboard or piano, thanks to the Yamaha Education Suite feature. With this feature you can actually teach yourself how to play piano. There is a series of built-in lessons. Easy lesson steps allow you to master a song. Learn to play with the left and right hand separately, as well as together.
I love the Portable Grand button feature. This feature lets you instantly call up Yamaha's grand piano sound and puts your entire keyboard in piano playing mode.
Kids will love the many effects that this keyboard comes with such as barking dog, creaking door and running water. It adds much fun to the keyboard.
The keyboard comes with 9 different reverb types. It has 61 regular-sized keys and 32-note polyphony. It can be powered by 6 AA batteries or AC adapter.
The Yamaha YPT220 is a great keyboard to buy when you're not sure how interested your child is in playing the keyboard or whether he or she will stick to it. It's pointless buying a more expensive keyboard only to find out that the child loses interest in playing. With a cheaper keyboard the blow will be softened. If your child maintains interest in playing, you can go for a more expensive model.
One of my disappointments is the fact that on sites like Amazon the Yamaha YPT 220 keyboard doesn't come with an AC power adapter or batteries. This means having to buy a separate power adapter or batteries.
Apart from that the Yamaha YPT 220 is a good beginner's keyboard. It's one of the lower end models but it is a quality product. If you're looking to buy a first keyboard, maybe for yourself or for a child, you can consider the YPT220. Check out the Yamaha YPT220 here.
YPT-220 Demo
Yamaha Keyboard Reviews

Yamaha keyboard reviews home page.