Yamaha YPT 420 Review
This review takes a look at the Yamaha YPT 420 keyboard. If you want a high quality portable keyboard, one loaded with impressive features, the Yamaha YPT-420 is worth checking out. As the model number and price suggests, this model is more advanced than the YPT220 and YPT320. If you're on a tight budget, sure you can go for the cheaper models, but sometimes it's better to just save up and buy a much better model like the YPT420. It sells for about $229.95 at leading musical instrument sellers. For this price a power supply is included. At the ZZounds online store, there is the option of buying this keyboard with a keyboard stand, headphones and power supply for about $250.
Highly Recommended: Go here for the BEST piano/keyboard course I've seen on the Internet.

The Yamaha YPT 420 has many new features. These include sound control knobs to help you control effects, filters, sound envelope (attack and release) and style tempo in real time. There are as many as 50 arpeggio types that automatically generate useful patterns and phrases depending on the notes and chords the keyboard player plays.
For a beginner's keyboard, I am impressed with the sounds of the Yamaha YPT420. The keyboard comes with Yamaha's Sweet! and Cool! voices delivering natural and dynamic sound. And to make these voices really come alive the YPT-420 has a pitch bend wheel that is great for voices like saxophone and trumpet.
The keyboard has 61 touch sensitive keys and 32-note polyphony.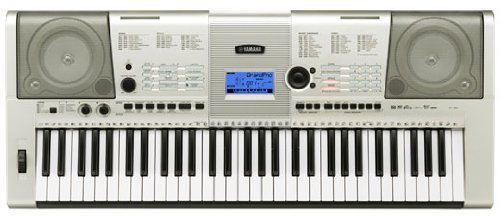 Wanna have some fun on your keyboard? With Performance Assistance Technology (P.A.T.) you will sound good even if you play wrong notes. This feature corrects your mistakes producing a perfect performance as you play your keyboard. All you have to do is play in time with the music.
Like the other YPT models, the Yamaha YPT 420 includes a Portable Grand Button that instantly puts your entire keyboard in piano playing mode with the touch of a button, and brings up the keyboard's best sounding piano. For a keyboard that costs less than 300 bucks, the piano sounds pretty good.
The keyboard also includes the Yamaha Education Suite. With this built-in feature you can teach yourself how to play piano. If you're a piano student you will find this feature a great supplement to an actual piano teacher.
You can connect your keyboard to a computer thanks to the USB to Host terminal. This feature allows you to play your computer recorded parts with different instrument sounds.
Another great feature of the Yamaha YPT420 is the XGlite tone generator. Thanks to this feature your keyboard can handle virtually any MIDI song file. It plays back conventional song data as well as songs that make use of the enhanced XGlite format.
Overall, this is a good keyboard for the price and I recommend it. Go here to buy a Yamaha YPT 420, to read customer reviews or to decide whether it's right for you. 

Yamaha Keyboard Reviews Home Page