Yamaha YDP 223 Review
No matter what level you're at, you will be delighted with the Yamaha YDP 223 digital piano. Home hobbyists, professionals, music students and music institutions all over the world choose this Yamaha digital piano. It comes with so many incredible features. When you need to take your music to a higher level this may just be the digital piano that you need.
Highly Recommended: Go here for the BEST piano/keyboard course I've seen on the Internet.

More and more pianists and keyboard players are abandoning the idea of getting an expensive acoustic piano. Instead, they go for affordable digital pianos like the Yamaha YDP 223 digital piano. They are able to save a lot of money. But at the same time features like sound quality and feel are not compromised.
This digital piano comes with a very important feature called Graded Hammer Effect. This feature emulates the feel of an acoustic piano. On an acoustic piano the keys are heavier in the lower registers and lighter in the higher registers. The same applies to the Yamaha YDP 223 digital piano. As one of the most respected digital piano manufacturers, Yamaha does an excellent job at emulating the feel of a grand piano.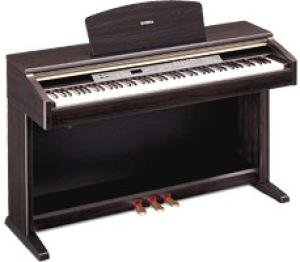 Apart from an incredible grand piano sound you get many other great voices. You can choose from a total of 14 different voices. These include 2 Grand Pianos, 2 Church Organs, 2 Electric Pianos, 2 Harpsichords, Vibraphone, 2 Strings, Choir, Jazz Organ and Guitar. I like the fact that you can combine two voices. My favorite is piano and strings.
You can forget about buying a Grand piano that requires regular tuning. When you buy a digital piano like the Yamaha YDP223 digital piano you will never have to go through the hassles of having to tune your piano on a regular basis. This is one of the reasons why more and more pianists are choosing digital pianos over acoustic counterparts.
The Yamaha YDP-223 digital piano comes with so many incredible features. I've only discussed a few here. It is one of the best Yamaha digital pianos on the market. I highly recommend it.
Return from Yamaha YDP 223 Review to Yamaha Digital Piano reviews.

Return to yamaha keyboard home page.