Yamaha S80 Review
The Yamaha S80 is the keyboard of choice for many musicians, singers, songwriters, keyboard players and pianists all over the world. You will find this keyboard in so many professional recording studios and project studios.
Highly Recommended: Go here for the BEST piano/keyboard course I've seen on the Internet.

It doesn't matter whether you're playing in a small club or a large concert hall, you will find the Yamaha S80 keyboard to be a great companion. This is because it comes with so many incredible features.
Many choose digital pianos like this one instead of grand pianos. That way they save a lot of money. But they still get all the important features they need such as 88 weighted keys, true piano action and a sound that is just like the real thing, to name a few.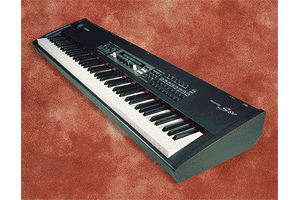 There are also several benefits to be derived when you buy a digital piano like the Yamaha S 80 keyboard. These include no need for tuning, the ability to use headphones, many additional voices or sounds apart from piano, portability, and many more.
It doesn't make sense to buy a so-called digital piano that fails to emulate the response and feel of an acoustic. You need to be able to capture all the emotion of your playing. You can only do this with a keyboard that has what Yamaha calls "Graded Hammer Effect". With this feature your keyboard will feel just like a grand piano. The keys are heavier in the lower registers and lighter in the higher registers. The good news is that the S80 keyboard includes this very important feature.
Apart from impressive piano voices, the Yamaha S 80 comes with some of the most frequently used voices such as organs, strings, brass, guitars and basses.
Do you really want to take your music to the next level? Well the S80 will help. Just make use of great features such as multi-mode resonant filters, MIDI capabilities, MIDI arpeggiator, an A/D input jack, a PC serial port interface, a playback sequencer and modular synthesis plug-in system.
I like this keyboard.
Return from Yamaha S80 keyboard to yamaha keyboard home page.