Yamaha PSR S550B Review
Yamaha PSR S550B Review
In this review we take a look at the Yamaha PSRS 550B keyboard. This keyboard is really an improved version of the popular Yamaha PSR S550. It features improved sounds, styles and looks. If you're looking for anentry-level music arranger keyboard workstation packed with professional features the Yamaha PSR-S550B is worth checking out. It sells for about $749.99 at leading online keyboard outlets.
Highly Recommended: Go here for the BEST piano/keyboard course I've seen on the Internet.

I particularly like the fact that the Yamaha PSR-S550 comes with a 16-track sequencer. This is the equivalent of a multitrack recorder giving you the capability of recording one or multiple instrument parts at a time. You can assign each part to its own track. Whether you want to record sophisticated melodies, chord accompaniment, or rhythm parts, this arranger keyboard will facilitate you. It features 64-note polyphony.
The Yamaha PSR S550B is pretty easy to operate. Many tools are built into this instrument. For instance the mixer function allow you to change track volume, panning, reverb, and chorus during song playback. There is a Music Database with 600 complete keyboard setups by song title. There are features like one touch settings, registration memory, transpose function to help you choose the best key for you, and metronome for practice or recording. I love the Tap Tempo feature. This feature makes it so easy to set the right tempo for your next song.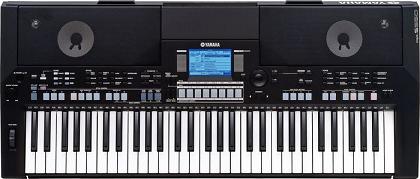 How about the sounds of the Yamaha PSR S550B? You'll find a vast selection of 294 true-to-life instrument voices, 480 GM/XG voices, and 22 drum/SFX kits. It's nice to see so many regional voices and drum kits included in this keyboard. These include Chinese, Indian, and Middle Eastern, as well as special piano, guitar, brass and flute Voices from Yamaha's Tyros, PSR-S900 and PSR-S700 arranger workstations. For a keyboard of its class, the voices are pretty realistic.
And to give you an even better sound, the keyboard comes with three effect blocks. You'll find 35 Reverb, 44 Chorus, and 237 DSP effects, plus 26 Harmony and 5 preset types of Master EQ. The 237 DSP effects can be added to the Main, Dual, and Left Voices.
The Yamaha PSR S550 can display lyrics, chords and notation. No more page turning and a great way to learn music.
Thanks to Digital Music Notebook, the keyboard allows you to preview, purchase, download, and print learn-to-play music books and chart-topping sheet music from the Internet.
PSR-S550B Demo
Here's a list of its features:
Color: black
61-key keyboard
16-track/5-song/10,000-note sequencer
320 x 240 black and white LCD display
176 Styles + User Styles
3 Style intros/endings, 4 fills
4 One Touch Settings per style
8 pads x 8 banks
5 preset songs, 5 user songs
Lyric and Score display
774 sounds, 22 drum kits, GM/XG compatible
Supports Dual and Split
64-note polyphony
Headphone jack
Sustain jack
USB MIDI Slave
USB Storage
Effects: 36 reverb, 45 chorus, 239 DSP
Harmony: 26 types
Speakers: 2cm x 2 / 3cm x 2
Amplifier: 12W + 12W
Includes: PA-300 power supply
37.2" x 15.8" x 5.1"
16.53 lbs.
If you're looking for a keyboard in the 750 dollar price range, you should definitely consider this one. You can buy the Yamaha PSR S550B keyboard here. Learn more about the Yamaha PSR-S550B keyboard, and read customer reviews here.
Go here to learn about other recommended online stores for buying a keyboard.
Go here to write a Yamaha PSR S550 review.