Yamaha P80 Review
The Yamaha P80 is perfect for keyboard players who simply want a great piano sound and authentic piano action on a lightweight digital piano. Whether you're playing with a band on stage or at church, practicing at home, or playing solo, the Yamaha P80 won't disappoint. It comes with a number of awesome features found in some of the best Yamaha models.
Highly Recommended: Go here for the BEST piano/keyboard course I've seen on the Internet.

For those who are tired of light keys and who want something that is just like the real thing, the Yamaha P 80 comes with Yamaha's Graded Hammer Effect. No longer do you need an acoustic piano if you want to play a weighted keyboard. With this digital piano, the lower keys are heavier, while the higher ones are lighter - just like an acoustic piano. If you like, you can even adjust the keyboard's sensitivity to suit your playing style. The Yamaha P 80 includes great sounding acoustic and electric piano voices. But for those who are not satisfied with piano voices alone, there are a number of superb instrument sounds such as organs, strings and bass.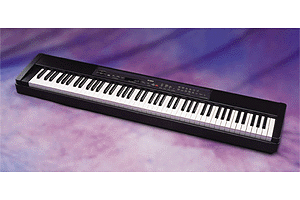 Is portability important to you? Then you should be delighted by the fact that the P-80 weighs only 37 pounds. It is therefore very easy to carry around and is perfect for gigging musicians.
Many of the incredible features of Yamaha digital pianos like the Yamaha P120 and Yamaha P120S are found on the P80. These include Dynamic Stereo Sampling, Graded Hammer Effect, 2-track sequencer, PC interface and so on. So if you don't want to spend too much but still want a great digital piano, the Yamaha P-80 may be just what you need.
Go here to shop for a Yamaha keyboard of your choice.
Return to yamaha digital pianos page.

Return from yamaha p80 review to yamaha keyboard homepage.