Yamaha P 200 Review
The Yamaha P 200 comes with just the features you need for home practice, playing with a band or playing solo. If you're looking for authentic acoustic and electric piano voices you will not be disappointed; you'll find them in the Yamaha P 200. In addition, this Yamaha digital piano comes with other instrument voices such as organs, strings and bass. After all, I'm sure you want more than just piano sounds.
Highly Recommended: Go here for the BEST piano/keyboard course I've seen on the Internet.

Yamaha is known for its Graded Hammer Effect and this is a very important feature of the Yamaha P-200. If you're looking for the closest touch there is to a real acoustic piano, you've found it. There is perhaps no difference between the feel of the Yamaha P200 digital piano and an acoustic piano. The lower keys have a heavier feel and the higher keys are lighter, just like the real thing. You can even adjust the keyboards sensitivity.

Are you tired of keyboards that give you little control over how your organ sounds? Well with this digital piano you won't have that problem. You can tweak the organ sound according to your preferences and even save the settings for future use.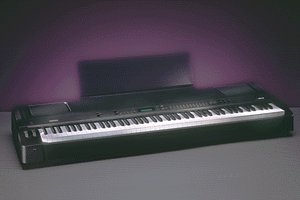 You can store various settings and have them instantly recalled with the touch of a button. Store organ settings, MIDI channel, effects, transposition, keyboard sensitivity and so on. This makes it very easy to use the keyboard and is very convenient.
This Yamaha digital piano comes with 64 notes of polyphony, high quality digital reverbs, split and layer modes, outstanding MIDI features and more. Awesome digital piano! Go here to shop for a newer Yamaha digital piano model. 
Return from Yamaha P 200 to Yamaha digital pianos page.

Return to yamaha keyboard home page.