Yamaha NP30 Review
Yamaha NP30 Review
Are you looking for a lightweight digital piano? Are you a gigging keyboard player? Are you looking for something that's affordable. The Yamaha NP30 may be just what you're looking for. It delivers Yamaha digital piano sound in a lightweight compact design. It is very slim, weighing as little as 12 pounds. All you need is 6 AA batteries and you're ready to go. Personally, the main reason I would buy NP 30 is because of the fact that this digital piano is so easy to carry around.
Highly Recommended: Go here for the BEST piano/keyboard course I've seen on the Internet.

It is also quite affordable. The last time I checked it was being sold for about $300 at this leading online retailer.
The Yamaha NP30 may not come with a weighted action keyboard but I love the Graded Soft-Touch keyboard it comes with. It has different levels of resistance in different ranges of the keyboard. I guess you can't have your cake and eat it as moving hammers would have made the Yamaha NP 30 a heavy instrument. This lightweight digital piano is perfect for pianists looking to take their music anywhere.
For a more realistic piano sound, Yamaha uses AWM Stereo Piano Samples. This is how Yamaha produces sounds digitally. Two microphones are used to produce a stereo sound.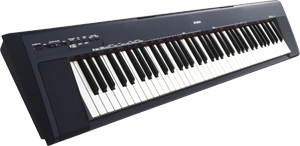 One feature I really like on this keyboard is the dual voice feature. This means that one can play two voices at the same time. My favorite would have to be piano and strings. And it happens easily.
The keyboard also has a built-in metronome that is perfect for practice. And you can even use your metronome in different time signatures - 3/4, 4/4, and 6/8.
The  NP30 comes with 76 keys, 32 notes of polyphony, 10 voices, 5 reverb settings, sustain pedal jack, 2 speakers, MIDI IN/OUT terminals, phones/output jack, 10 voice demo songs, 10 piano preset songs, transposition, fine tuning, and touch sensitivity controls, and music rest. The keyboard can either run on batteries or you can power it up with an (included) AC power adapter.
If you need a digital piano but you can't stand the weight, consider giving this keyboard a try. Learn more about the Yamaha NP 30 here. 

Not sure what is right for you? Learn how to choose a keyboard here.