Roland Keyboard Amps
You can find Roland keyboard amps for as little as 175 bucks online.
If you do not require too much power, then all you need is a relatively inexpensive amp like the 30 watt Roland CM 30. If all you want is a basic amplifier that you can use in your home studio or as a monitor, you're better off saving your money and buying one of Roland's lower end cheap models.
Highly Recommended: Go here for the BEST piano/keyboard course I've seen on the Internet.

When it comes to Roland amps, the KC series is very popular. There's the KC60, KC150, KC350, and KC550 stereo mixing keyboard amplifier. As the model number goes up, so does the price, and so does the power, channels, speaker size, and number of features.There's also a Roland KCW1 Powered Sub Woofer.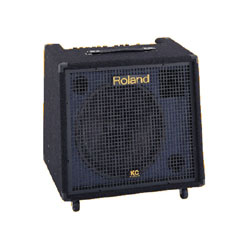 So if you're looking for lots of power and you can afford it, the KC550 is the way to go. It is the most powerful in the series, with 180 watts of powerful sound via a 15-inch speaker and horn tweeter. It features four input channels. Other features include an Output switch, a Shape switch, and an XLR line output. This Roland keyboard amplifier sells for about $595.00.
But if you do not need all that power you should choose a less expensive model. There's the KC350 that sells for $495.00. So that's a hundred dollars less. It's a 120 watt amplifier so that's less power. Maybe that's all you need. It's pointless paying for features and power that you do not have use for if you really can't afford it.
Then again if you've got the money and you're thinking long term you may want to make a bigger investment now for future purposes. That way, if your circumstances are such that you require more power in the future, you already have a powerful amplifier. You don't want to buy a less powerful amp today and have to replace it surely after because you've grown out of it and it no longer meets your needs.
Before buying Roland Keyboard amps, be sure to read online customer reviews. Be sure to compare Roland with other brands.