Yamaha Keyboard Reviews & Buying Guides
Welcome to Yamaha Keyboard Guide.com
. If you're interested in buying a keyboard but want to know more about it first, you're in the right place. You will find
reviews
of various keyboards here. Our buying guides will help you choose the keyboard that is right for you.
The reviews on this site are written by myself, an experienced keyboard player, guest contributors, as well as other keyboard users/owners. I have added Youtube videos (reviews and demos) to many of the newer reviews so you get different perspectives.
You will find information on all categories of Yamaha keyboards including PSR, PSRE, YPG, DGX, YPT, EZ, YDP, PF, Tyros, Motif, MO, MOX, MM and KX models. Learn about portable keyboards, arranger workstations, professional synthesizers, digital pianos, clavinovas, and so on.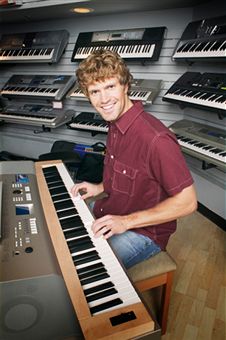 If you're a beginner or you want to learn how to play the keyboard, this site will facilitate you. Learn about our recommended piano courses.
You can shop for keyboards as well. All throughout the site we make recommendations on the best sites on the Internet to shop.
Yamaha Keyboard Guide.com is an interactive website. You can share information in the forums or ask questions. You can login via Facebook and share comments. You will find many of the threads very useful.
Be sure to sign up for our Free KeyboardGuide News! Newsletter. It's packed with original ideas and helpful information that'll blow you away! Subscribe now while you're thinking of it.
Thanks for visiting the site and we hope that you find what you are looking for. There are hundreds of pages so we urge you to come back.
Be sure to share any page you find useful, to like our Facebook page linked in the right column of the site, and to add us on other social networks like Twitter.
Yamaha-keyboard-guide.com is not associated with The Yamaha Corporation in any way.
Learn to play keyboard here. If you want to learn how to play keyboard, welcome.
The Yamaha Keyboard Blog keeps you up-to-date with all additions and changes to the yamaha-keyboard-guide.com Web site. Subscribe here.
Yamaha Keyboard reviews. Includes new Yamaha musical keyboard and digital piano reviews.
The best keyboard - how to choose the best music keyboard for you? What keyboard should you choose?
Yamaha PSR keyboard reviews and buying guide. Learn about various PSR keyboard models here. Yamaha portable keyboard reviews.
Yamaha keyboard forum. Ask and answer questions about Yamaha keyboards and pianos here.
Reviews Yamaha digital pianos. Wide range of digital pianos.
Review of Yamaha portable keyboards. Guide to choosing a Yamaha portable keyboard that meets your needs.
Piano keyboard layout - a critical look. Information to help you better understand the piano keyboard.
Read Yamaha keyboard user reviews and write your own.
Yamaha keyboard accessories: top picks. Yamaha accessories including bags, stands, cases, sustain pedals, adaptors, and keyboard stands.
Want to learn to play the piano? Here's my number one recommendation on learning how to play the piano and keyboard.
Yamaha Clavinovas - an in-depth look. Choosing Yamaha CLP and CVP Clavinova digital pianos.
Keyboard player available, needed & wanted gig guide. Post your info here if you are a keyboard player looking for a band, or band looking for a player.
Yamaha piano video demonstrations.
Guide to musical keyboards. Reviews. Wide selection of music keyboards.
Music keyboards reviews and buying guides. Questions and answers.
Every month, the KeyboardGuide News! ezine brings you information on the newest synthesizers, personal keyboards, digital pianos, and keyboard controllers on the market.
A wide range of Yamaha musical instruments. Shopping for Yamaha instruments online.
Keyboard amplifier buying guide. How to choose keyboard amps.
About the host of Yamaha-Keyboard-Guide.Com
Keyboard, piano, and digital piano related articles.